Skip directly to the interview, and avoid the journalism if you so desire.
Yesterday, members of the Electricept Crew had the great privledge of attending an Opiuo Band appearance at the Waiting Room in Buffalo, New York. Upon seeing the tour announcements months ago on After Dark's calendar, I'd selected the date for proximity and intimacy (over NYC), because who wants to try conducting an interview at Webster Hall.
The Opiuo Band is not entirely novel, as the youngest EDM bloggers seem to think. Oscar Davey-Wraight, the funk doctor behind the Opiuo and Sunmonx projects, has assembled musicians to play out his electronic compositions in the live setting before. The difference between previous incarnations of the Opiuo Band and what we're seeing now is not so much the line-up as their touring range in 2015. Much to the dismay of fans outside Australia and parts South, previous tours never extended beyond U.S. shores- you must understand the difficulties of bringing a full band on a multi-city international tour- visas, expenses, scheduling, and simply making sure everyone behaves. However, Opiuo's extensive production credits and touring efforts over the last five years have finally paved the way for this, an international tour of huge proportions for the Opiuo Band.
In the past few weeks, the band has been tearing sets from coast to coast, from highlight performances at Lightning in a Bottle and InfraSound to consecutive sold out nights at Cervantes Masterpiece Ballroom in Denver, the modern mecca of America's electo-funk and glitch scene. With the orchestrated live act amping Opiuo's crisp electro-funk productions with an improvisational spark, the show has captivated audiences on either side of the "electronic divide". EDM snobs and instrumental purists are forced to reconsider their definition of "#realmusic" in the face of producers like Opiuo, who are beyond reproach from either prejudicial camp.
Anyhow, we're on to our turn of their road map, Buffalo, where I've arranged to meet with Opiuo before the band's soundcheck to discuss what he's been up to, with the band and beyond. I'd spoken with Oscar a few times in the past, 2013, when he opened Big Gigantics' tour, and last year's on his solo Meraki tour, each time gaining valuable insight into his innovative productions and designs on funking over the world. We screamed it out over Big G's set in the green room of Lupo's Heartbreak hotel in Providence, followed by a Skype session later that year: neither circumstance optimal, but as I said before, I'd selected Buffalo for intimacy, which was to be the theme of the entire night, in one of those shows you were lucky to attend, one those rare events in the massive wash of the american industrial eventing complex, a show that amounted to the best live experience I've had since KOAN Sound started a mosh scene at Le Belmont, Montreal without breaking a sweat.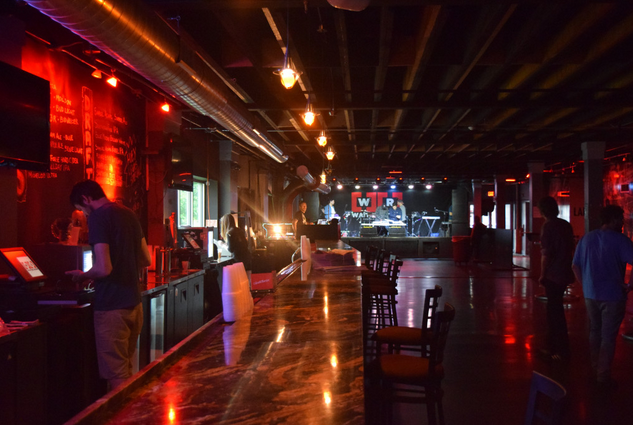 I arrive early with my team, Kevin Kropp (photos) and Christian McGrath (content production) and met tour manager Kyle, who accommodated our credentials and smuggled a bottle of Three Philosophers' Ale from our local Ommegang brewery into the club as an offering for the band. Shout out to Kyle on some stellar tour managing there.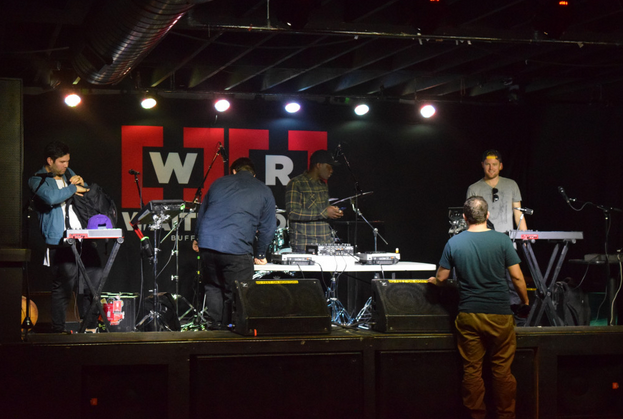 The Waiting Room is intimate, like an old punk venue. Floor to ceiling cabinets flank a stage which only elevates performers a few feet above the crowd. The best feature of venue is the ceiling- bare wood joists spanning the entire length of the club. I'd later find the soft wood made for much better acoustics than your average concrete hole-in-the-wall. We meander around the floor for a minute, waiting for a que from Kyle, which is a little late, so naturally, I waltz backstage. On the stairs to green room, we pass Syrene (Syreniscreamy), who I've long admired for her contributions to Opiuo productions ("Load Landfill", "Don't Hold Back") but am only now able to recognize in person owing to promotional videos.